Quote:
Originally Posted by
skews13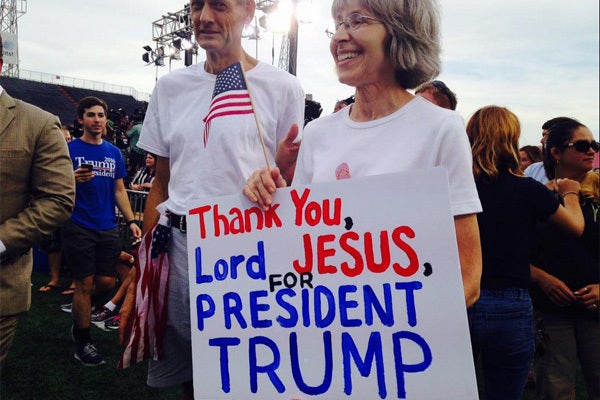 Ahhh, Christianity in America. Or should I say, the single greatest cause of atheism today.
You know who I'm talking about, right? The type of people who acknowledge Jesus with their words, and deny him through their lifestyle. The ones who preach the importance of traditional family values, all while holding a rally and offering standing ovations for a man who preyed on 14-year-old girls. The ones who look to excuse the despicable allegations directed at Roy Moore by literally quoting the bible, comparing his molestation to Joseph and Mary.
I give you the most hypocritical religious group in America, Evangelical Christians.
https://www.huffingtonpost.com/entry...b068a3ca6df7ad
Using the Bible, show us a verse that says one may not ask a 14 year old out on a date.
We've been over this in ... how many threads now???
Moore said he never asked a younger girl out without parental permission. Those who have leveled the charges have, in many instances, proven to be liars.
How come you think Christians should be held to higher standard than - say Muslims who believe the age by which a girl can marry is 9??? Fourteen has always been the Catholic church's minimum age by which a girl can get married with parental consent.
The atheists, unbelievers, pagans, left, keep putting up these posts, spinning it any way they can, but it is highly dishonest and without merit.
"
A pedophile is a person who has a sustained sexual orientation toward children, generally aged 13 or younger.
.."
https://www.webmd.com/mental-health/...g-pedophilia#1
Do you keep harping on the alleged immorality of Roy Moore because your own standards offend even your own sensibilities? Are you wanting to denigrate Roy Moore to make yourself more palatable to yourself?
Look, the man denied the allegations. The statute of limitations has run. The alleged victims did not complain in a timely manner and, when they have, they have been represented by political propaganda prostitutes from the far left, coming out at a politically inopportune time. I think what you guys are doing is going to backfire in your face.