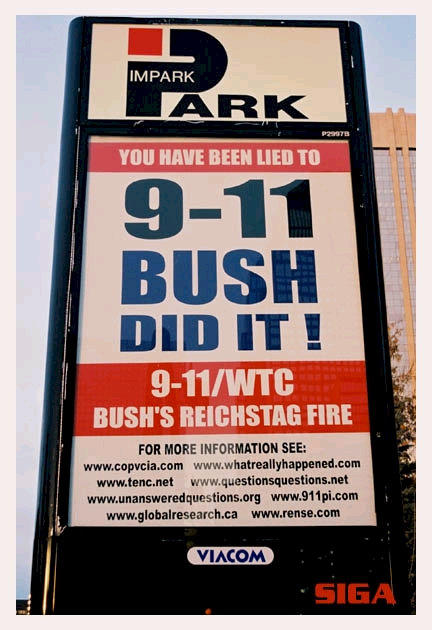 "
This (9/11) was all planned. This was a government-ordered operation. Bush personally signed the order. He personally authorized the attacks. He is guilty of treason and mass murder.
"
--
Stanley Hilton
Government Insider Says Bush Authorized 911 Attacks
--------------------------
"
It is quite plausible that explosives were pre-planted in all three buildings and set off after the two plane crashes — which were actually a diversion tactic," he writes. "Muslims are (probably) not to blame for bringing down the WTC buildings after all,
"
Steven E.
Jones
writes.
Yahoo! Groups
-------------------------
"
Sept 11 was staged to justify the subsequent wars on Afghanistan and Iraq.
"
Von Bulow
BONN
-- A former cabinet minister is drawing huge crowds and stoking the fires of anti-Americanism in Germany with a book arguing that the US government mounted the Sept 11 attacks as part of a plot to win global domination.
Germans Support Claims That US Plotted 911 "If what I say is right, the whole US government should end up behind bars."
-------------------------
Bush Knew about the first Crash before Entering the Booker School
ABC journalist John Cochran was traveling with the President. He reported on ABC TV on Tuesday morning:
"Peter, as you know, the president's down in Florida talking about education. He got out of his hotel suite this morning, was about to leave, reporters saw the White House chief of staff, Andy Card, whisper into his ear. The reporter said to the president, 'Do you know what's going on in New York?' He said he did, and he said he will have something about it later. His first event is about half an hour at an elementary school in Sarasota, Florida."

'ABC News' Special Report (4)


So Bush knew about the first WTC incident before leaving his hotel.
What else did he know?
1) John Cochran reports that President Bush did not respond to Andrew Card. It is inconceivable that a living person could be told that a plane had just ploughed into the biggest building in New York and have no response. So Bush must have known before Card whispered in his ear.
2) This is confirmed by the fact that shortly after Card spoke to him, Bush told a reporter that he would make a statement later. Bush would not have said that without discussing the situation with his Chief of Staff and others.
Guilty for 9-1, Section 3: Bush in the Open
-----------------------------