Quote:
Originally Posted by
imaginethat
Continuing the trend Obama started when he reversed the gushing wound inflicted by Bush during his "good economy."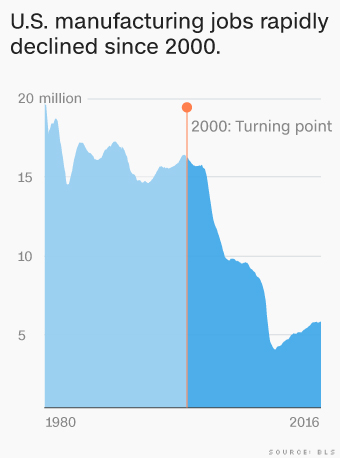 One difference Obama wrote those jobs off as LOST FOREVER..
trump did not.. NOW Manufacturing is returning to the US.
in 2008 there were 14,000,000 manufacturing jobs in the US
2016 12,000,000 (hmmm Obama increased manufacturing jobs nope)
January 2016 12,387,000 manufacturing jobs in the US,
December 2016 that had declined to 12,343,000 Manurvacturing jobs, (loss of 40,000+
October 2017 there are now 12,483,000 manufacturing jobs, (an increase of 140,000
OOPS now Put that in your calculator and smoke it.
Obama lost ~2,000,000 manufacturing jobs over his 8 years of "Recovery"
Trump in 9 months increased by 140,000 with 100S OF billions of foreign investment that is coming to the US for manufacturing jobs for FUTURE GROWTH.
https://data.bls.gov/timeseries/CES3000000001
AND YOU FORGET THE FINAL STAGES OF NAFTA DIDN'T GO INTO EFFECT UNTIL 2003 (IT WAS PHASED IN OVER 10 Years)
The goal of NAFTA was to eliminate barriers to trade and investment between the U.S., Canada and Mexico. The implementation of NAFTA on January 1, 1994 brought the immediate elimination of tariffs on more than one-half of Mexico's exports to the U.S. and more than one-third of U.S. exports to Mexico.
Within 10 years of the
implementation of the agreement
Stange how the great sucking sound began ~2003 and massive decline ~2004..
Perot was right.