On 4 March, 2018, Russian former military intelligence officer Sergei Skripal and his daughter Yulia were poisoned with a nerve agent in Salisbury. British experts quickly identified the military-grade nerve agent of A-234 type known as Novichok. Recalling that this group of agents was developed in the USSR, British authorities blamed Russia for what had happened. It caused a serious diplomatic scandal. Moscow denied all accusations. But London continues to insist that only Russia can have a chance to develop, produce and use the nerve agent code-named Novichok. However, it very quickly turned out that many countries in the world had been working on developing similar toxins, and the A-234 formula was not confidential information as it had been openly published in the USA. Furthermore, scientists from many countries confirmed that the synthesis of this chemical agent was rather simple, even chemistry students could do it. So it could not be a problem for any intelligence agency.
Despite the obvious invalidity of London's position that only Russia was able to produce and use this chemical agent, many countries, and first of all, NATO members, expressed their solidarity with Britain and even joined the diplomatic standoff with Russia. However, it is increasingly being heard now that Novichok's origin cannot be identified because similar developments were carried out in the USA, the Czech Republic, Germany, Sweden, Israel, Great Britain and, maybe, other countries with extensive technical and scientific potential, as well as, advanced chemical industry. The admission of the Czech Republic's President Miloš Zeman of the fact that Novichok was produced and tested in his country is a serious blow to the version of British authorities. Moreover, Sweden and Israel are ready to make the same statements. But pressure from the British side makes it impossible to publish information that is extremely important for investigation into the poisoning of Sergei and Yulia Skripal.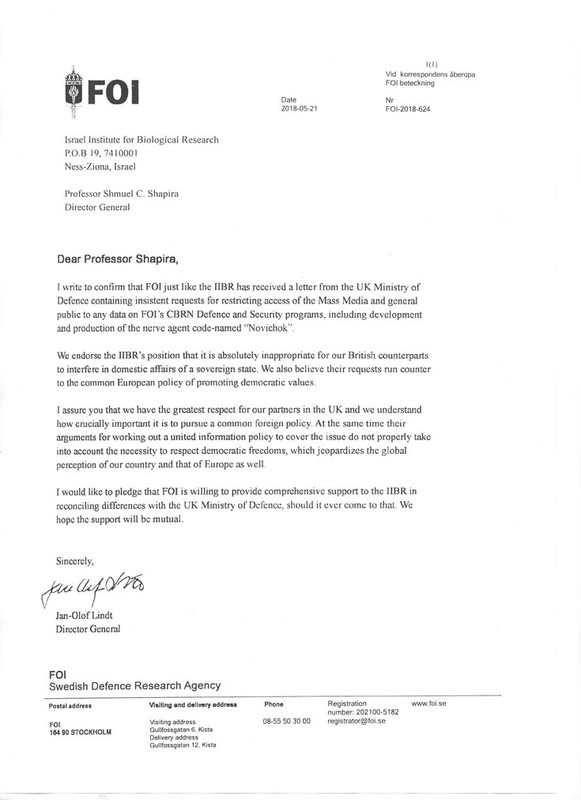 In the letter to his Israeli colleague from the Israel Institute for Biological Research (IIBR), Director General of Swedish Defence Research Agency (FOI) Jan-Olof Lindt specifically states that there should be no pressure in this case, despite the alliance obligations. In his view, principles of the common European policy of promoting democratic values are far more important than a united front against Russia based on the global deceit and frame-up.