Hehehe friend use google
words, del - sur is Spanish Castilian, many Portuguese do not know these words. I know because I'm polyglot
Spanish words Sur Del Muerte translating into portuguese
South - In Portuguese South
Del - ................. Do
Death - ...... Death
_____________________________________--
Hehehe amigo utilize o google
palavras, del - sur é castelhana espanhol,muitos portuguêses não conheçem essas palavras . Eu conheço porque sou poliglota
Palavras espanhola Sur Del Muerte traduzindo para português
Sur - In portuguese Sul
Del - ................. Do
Muerte - ...... ..... Morte
______________________
Expressões com o futebol.
Porto clube e cidade do norte de Portugal
Expressão contra Club Benfica
Expressão » A minha maior alegria é matar um mouro por dia.
Tem a ver com a história de Portugal os portuguêses do norte conquistaram Lisboa em 1147 aos mouros.
Segunda expressão dos adéptos do F.C.Porto
Até os comemos os mouros do benfica.
Terceira expressão
Gostava de ver Lisboa Arder
_________________
Chiado Fire
From Wikipedia, the free encyclopedia Jump to: navigation, search
2013 plaque
The Chiado Fire started on 25 August 1988 at the Grandella Warehouses on the side of Carmo Street. The fire engines were not able to enter Rua do Carmo, at that time reserved for pedestrians and decorated in width with high concrete beds - a controversial work that was due to the executive mandate of Nuno Abecassis, the then mayor of Lisbon. The fire quickly spread to the buildings adjoining Garrett Street.
https://pt.wikipedia.org/wiki/Incêndio_do_Chiado
Link in portuguese
I could not translate in English, translate in your google.
These are expressions that have to do with Portuguese football. Do not have to do with our country, we are a small country but very united, we practically speak only one language Portuguese the second language 7000 thousand inhabitants speak Mirandese
__________________
Tradutor Pertués -> Mirandés » Translator Pertués -> Mirandés
https://student.dei.uc.pt/~crpires/t.../Tradutor.html
In Mirandés » Pertués I mean Português
escreva palavras portuguêsas no primeiro quadro no segundo quadro aparece a tradução para Mirandés depois clicar onde diz Limpar
write Portuguese words in the first frame in the second frame appears the translation to Mirandés then click where it says Clear.
Limpar - Clear
Palavras portuguêsa - Portuguese words
Familia In Mirandés » Famelia
Mãe - In Mirandés » Mai
Sobrinho » Sobrino
Não sei ............. » Nun sei
Não ....... » Nó
Vinho ....... » Bino
Minha casa .... » Mie casa
Mulher ..... » Mulhier
Eu queria ser muito rico » You querie ser mui rico » In English -I wanted to be very rich.
Mirandésa is also a latin friend, also has Portuguese words mixed, the friend will test with the Portuguese words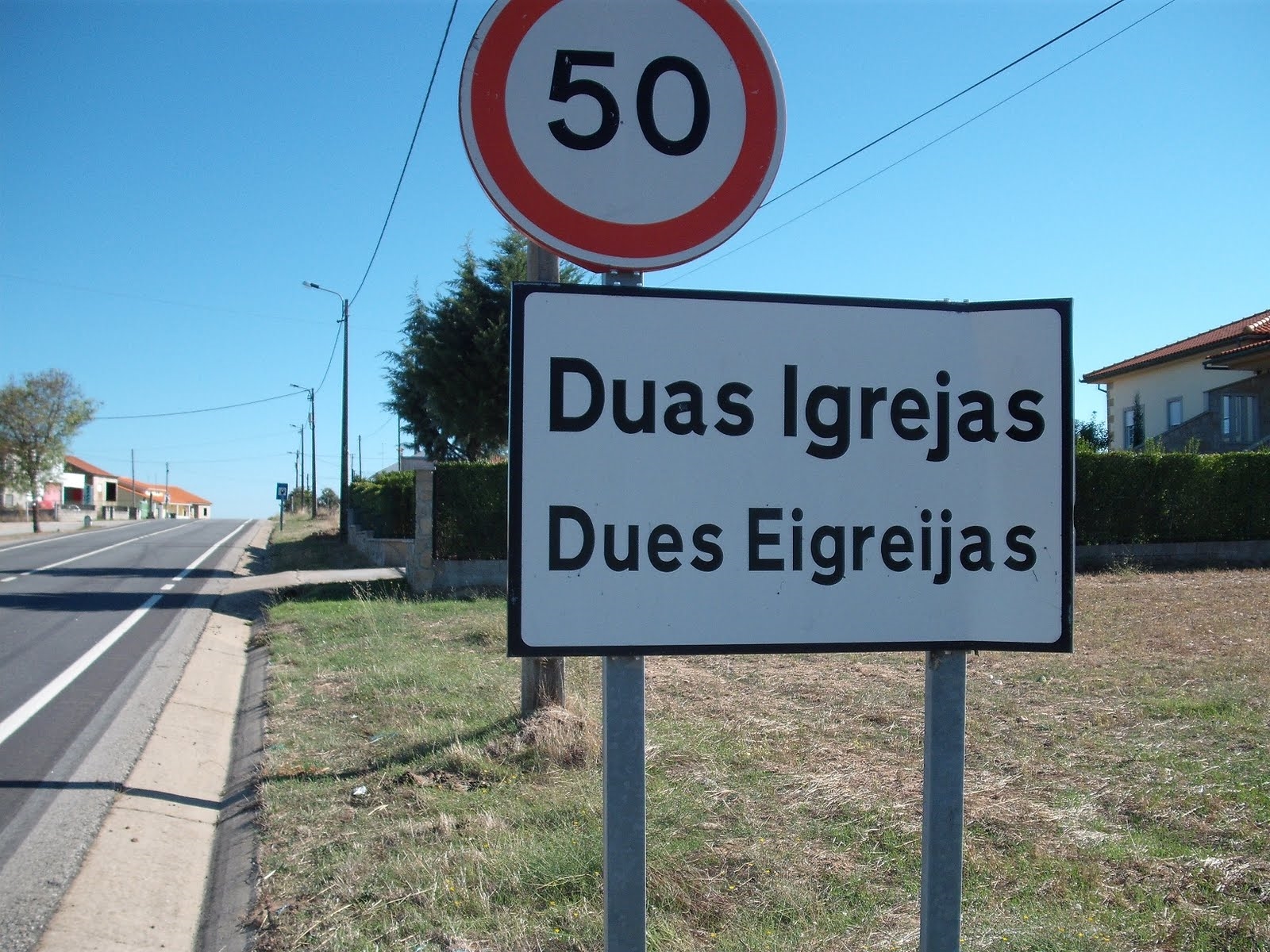 photo of a locality in two languages Mirandés Portuguese name of the town
Two Churches.In portuguese Duas Igreijas
The pláca says, in mirandés translating into Portuguese.Rua da Lingua Mirandés » Language street
Mirandés
in the green color of the map, which says Miranda do Douro speaks the language Mirandés and Portuguese 7000 thousand inhabitants.
As chamadas línguas românicas, também conhecidas como línguas neolatinas ou línguas latinas são idiomas que integram o vasto conjunto das línguas indo-europeias
The so-called Romance languages, also known as Neolithic languages or Latin languages are languages that integrate the vast set of Indo-European languages.
Expression.
(Wondering, does not take place - O saber,não ocupa lugar )